November 4, 2021
COP26: Taking into account climate in every financial decision
---
By: Juvarya Veltkamp
Day 3 was #FinanceDay at COP26, and we set out at the crack of dawn to ensure early access to a plenary featuring Mark Carney, UK Minister of Finance Rishi Sunak, as well as several other global finance leaders. Mark Carney announced significant progress for his Glasgow Financial Alliance for Net Zero, nicknamed 'GFANZ', which now represents institutions with assets worth over $130T that are committed to net-zero emissions by 2050.
The announcement focused on the massive amounts of private capital that are now committed in the service of transforming the economy for net-zero, although the narrative painted a misleading picture of massive pots of funding. Mr. Carney's remarks were followed by commentary from the Minister of Finance for Indonesia, Ms. Sri Mulyani Indrawati, who quipped that she did not need $130T, but that Indonesia could phase out coal-fired power plants entirely before 2040 if the country could just get $150 billion 'in real dollars, today'.
The reality is, that the $130T is a notional amount, representing loans or investments provided at market rates, with no 'de-risking' built in, provided over the next 30 years. GFANZ was also criticized for not directly requiring institutions to immediately phase out new fossil fuel development in line with the International Energy Agency's net-zero pathway, a pathway that is still available but closing fast unless we can halt all new oil and gas exploration and development immediately. While the quantity of net-zero commitments from banks and investors were great to see, there is still a lot of work to do.
Other big news from Finance Day came from the global accounting body the International Financial Reporting Standards Foundation or IFRS. Erkki Liikanen, Chair of IFRS, launched the International Sustainability Standards Board (ISSB), which will establish globally consistent, credible, and comparable climate disclosure standards for financial markets. The new ISSB absorbs the Climate Disclosure Standards Board (CDSB) as well as the Values Reporting Foundation, formerly known as SASB (which recently merged with the Integrated Reporting Standards Board). This standardization is an important tool to allow decision makers to understand the new currency of greenhouse gas emissions and climate risk, and to value climate in decision-making. The IFRS will support jurisdictions by developing a strengthened assurance framework.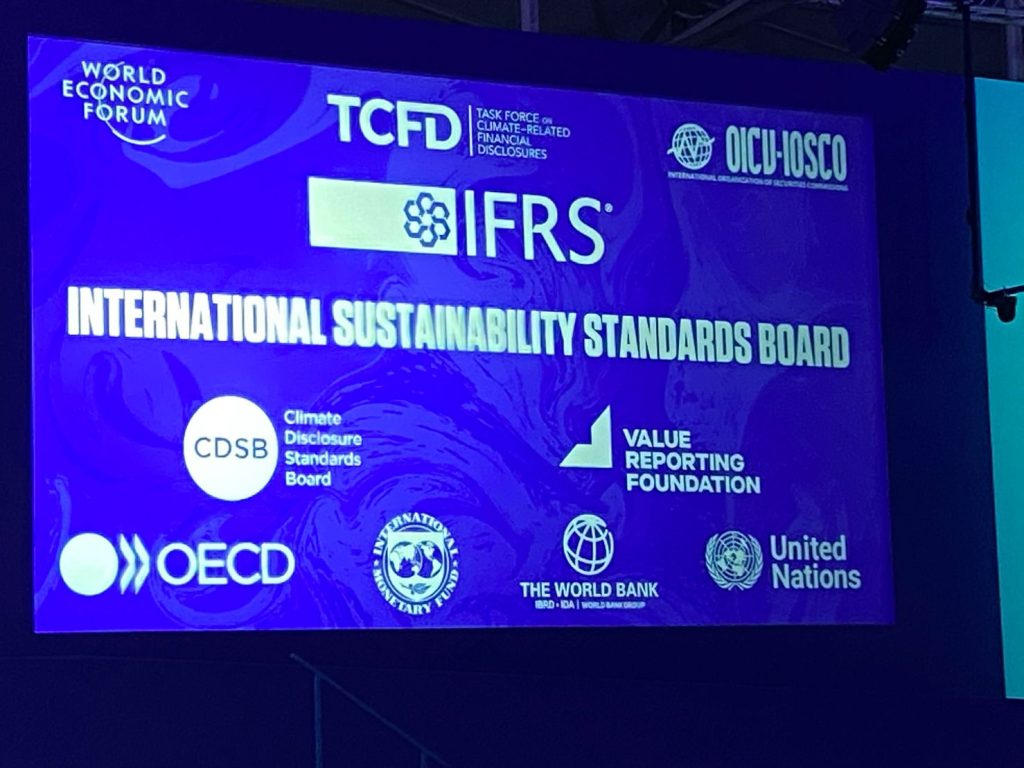 Many have long been advocating for better decision-making capabilities and tools that allow climate information to show up in financial analysis and transactions. That's why the UK's Private Finance Hub for COP26 prioritized improvements to the quantity, quality, and comparability of climate-related disclosures (along with three other priorities I wrote about previously). The development of the new ISSB will allow for better and more comprehensive sustainability reporting. The biggest challenge for companies now is to learn how to read and report from these new standards.
"No doubt, companies and directors need to familiarize themselves with the standards and disclosure requirements." Ashley Alder, Securities and Futures Commission, International Organization of Securities Commissions (IOSCO), talking about the new standards.
It was also great news for Montréal. The city will host the one of the ISSB offices and 'will be responsible for key functions supporting the new Board and deeper cooperation with regional stakeholders.' This is good news for Canada as it positions us at the forefront of sustainable finance and climate governance.
Funding is There, What is Missing?
To end the day, my partner in crime for the day, Jeanette Jackson, CEO of Foresight Cleantech Accelerator, and I slipped away to a different part of town for a change of pace, joining the Cities Taking Rapid Climate Action Now event, held in a well loved community centre dining hall. As we walked in, an urban planner from Birmingham in DM boots was presenting about her work, catalyzing social housing deep retrofit projects that tangibly reduce emissions within months, while improving comfort and living conditions for residents. 'It isn't glamorous work, but it's improving lives,' she simply stated. The plain meeting room could not have been more different from the grand plenary hall we had been in moments earlier.

After hearing Ms. Sri Mulyani Indrawati speech and attending the Cities event, Jeanette and I felt we were missing a layer here. Capital flows had been announced, projects were happening on the ground, and we already have the technology solutions. So what was missing?
A layer of innovation. We hadn't heard from cleantech solution providers yet, we hadn't heard from cities at the forefront of climate action yet. This is where we both know there are projects just waiting to scale or put into action at a local scale. We both felt that this is the piece that would help us make sense of our day. I will write more about innovation in the coming days, and the tools we need so that those who need money to activate their climate solutions can get it.